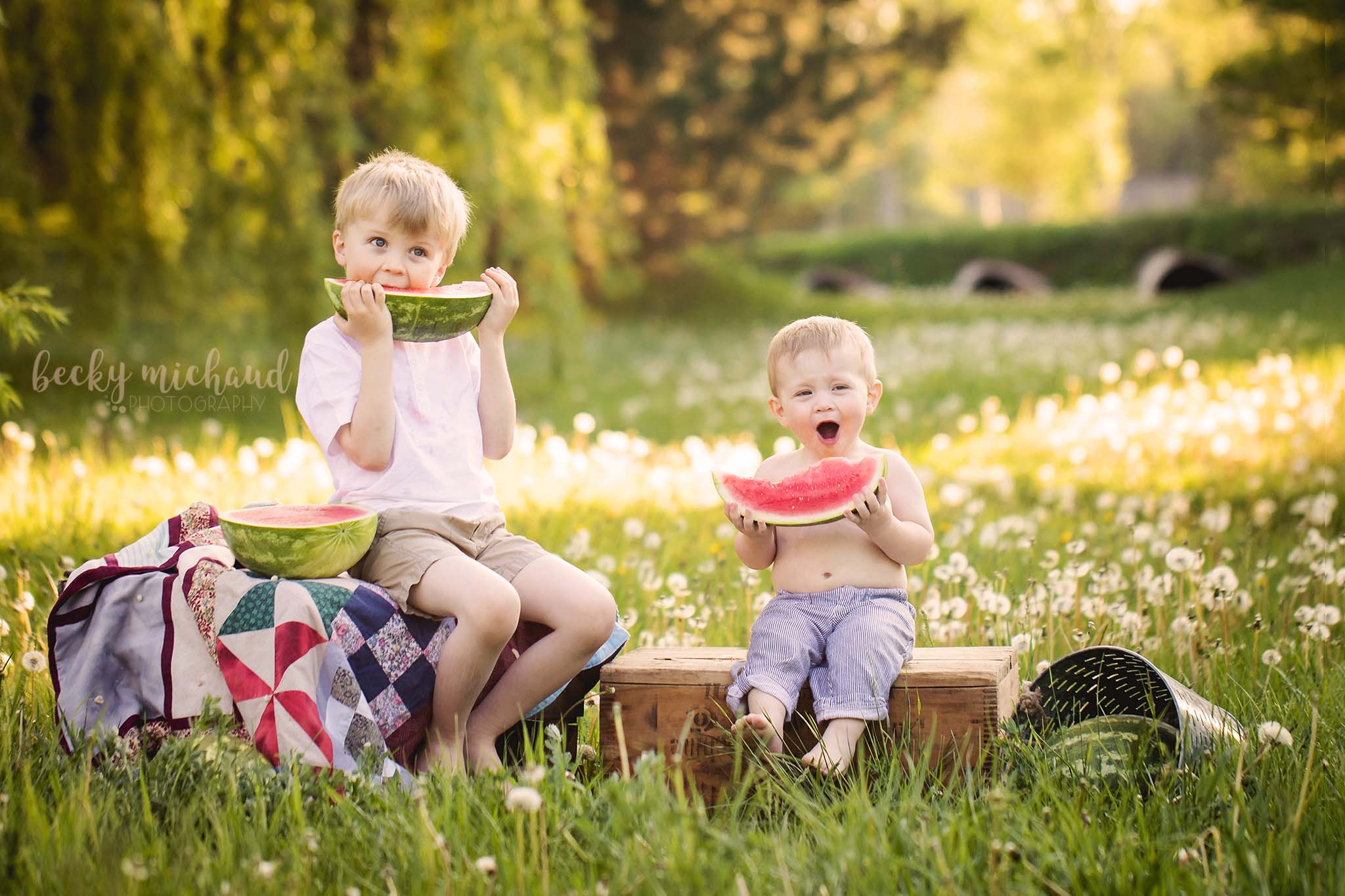 My hope during every photo session is that I'll not only be able to provide you with some great photos, but also some fun memories of an evening spent watching your kids be kids and have fun!  The second part doesn't ALWAYS happen (cue screaming toddlers), but one of the things I love about these watermelon mini sessions is that they're just so much fun for the kids!  My little test subjects and I had a blast during their session and I got so many natural smiles and genuine expressions from them because…they had giant slices of watermelon!  Of course they were happy!
I'm so excited to be offering these mini sessions to you later this summer!  I'm offering these right before the 4th of July so that your kids can show off their 4th of July outfits if you want, or you could go with a simple, classic look like I chose for these sample photos.  The location will be the same as you see in the sample photos in a field with some big willow trees.  I'll take a few photos of the kids posed on the crates, then we'll give them each a giant slice of watermelon and let them go to town!  These sessions will be fairly short at 20 minutes from start to finish because that's probably enough time for a kid to stuff themselves with watermelon, right?  Here are the details:
Monday June 26th, 2017
20 minute session
8 digital images with printing rights
Kids only
$125 per family
I have 8 slots available at the following times (the crossed out spots are already taken):
5:00, 5:20, 5:50, 6:10, 6:30, 7:00, 7:20, 7:40
If you'd like to book one of these sessions, you can contact me via my website here:  https://beckymichaudphotography.com/contact-me/ or on my facebook page here:  https://www.facebook.com/beckymichaudphoto/  A $50 deposit is due upon booking to secure your spot and the remaining $75 can be paid on the day of the session.
You can see some more of the fun photos below!